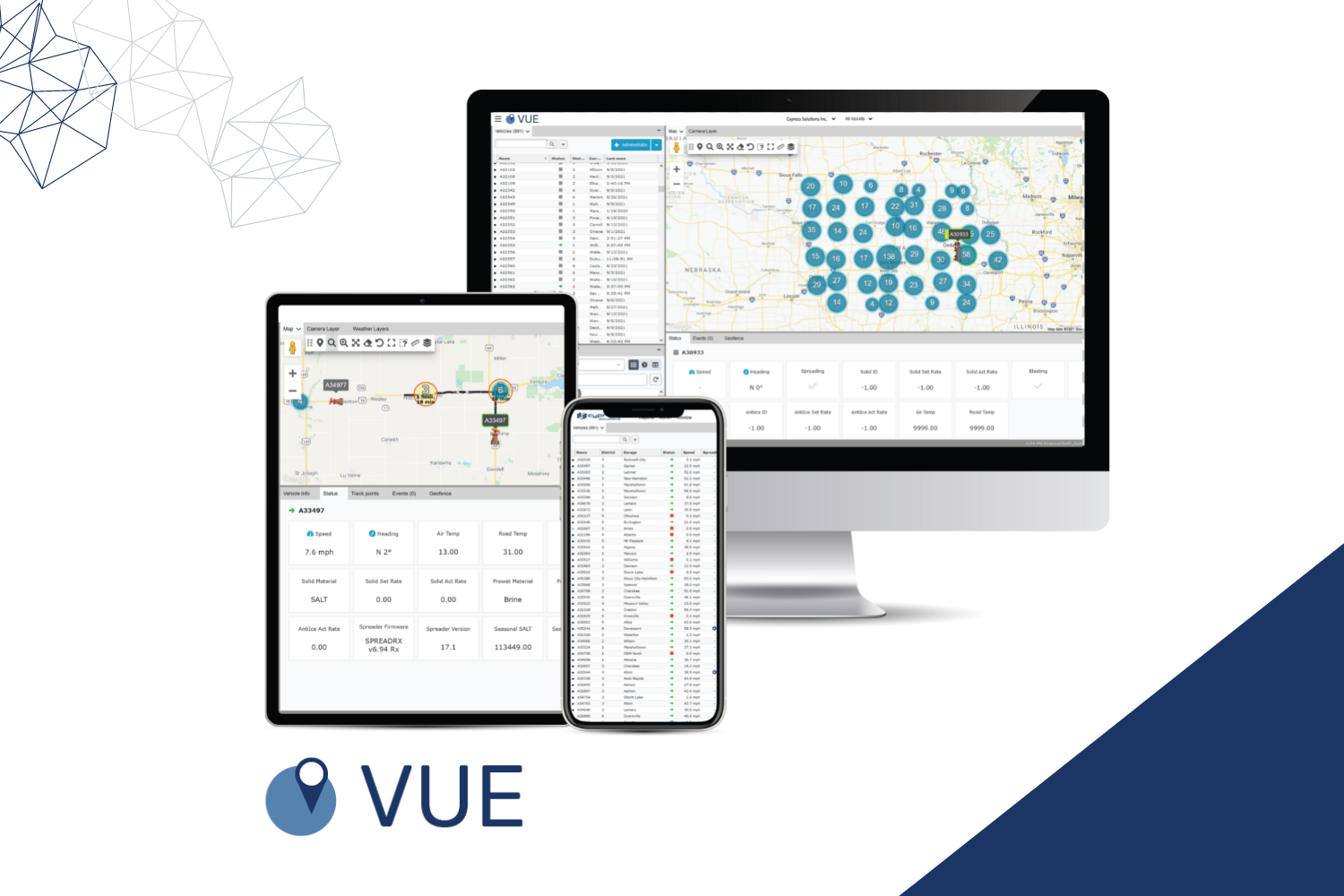 Introducing Cypress VUE Fleet Telematics Platform
Cypress VUE is an all-in-one fleet telematics platform that allows you to track and manage vehicles in real-time. With support for a variety of fleet applications ranging from winter operations to public safety, our software can fit your fleet's most complex needs.
The Cypress VUE fleet telematics platform works seamlessly with the CTM-ONE device to give you a complete solution. Once the device is installed in your vehicle, the data is transmitted via the CTM-ONE to the cloud. Cypress VUE will consequently display the transmitted data on a single dashboard, where you can view the real-time data from a desktop, tablet, or smartphone.
Take a look at Cypress VUE's key features below.
Map and vehicle tracks
Vehicles and their tracks are available for real-time monitoring on a map layer with various icons for identification. Cypress VUE supports Google as the base map, but you can integrate user-supplied map data of your choice.

The tracks panel within Cypress VUE allows you to interact with current and historical fleet data. Manage your fleet team efficiently by monitoring vehicle status and events by your preferred date range.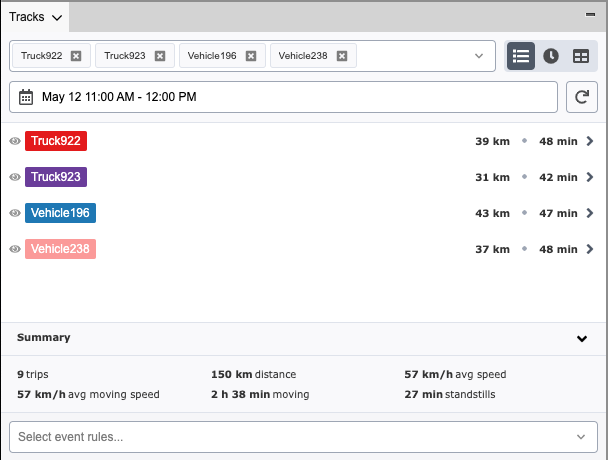 Create geofences to monitor your fleets
A geofence is a virtual perimeter. In Cypress VUE, you can create a circle, a polygon, or a route geofence. The main benefit of setting up geofences is receiving alerts when your fleet enters or exits a geofence. This way, you can monitor driving behavior and ensure that a vehicle does not leave a predetermined area or route.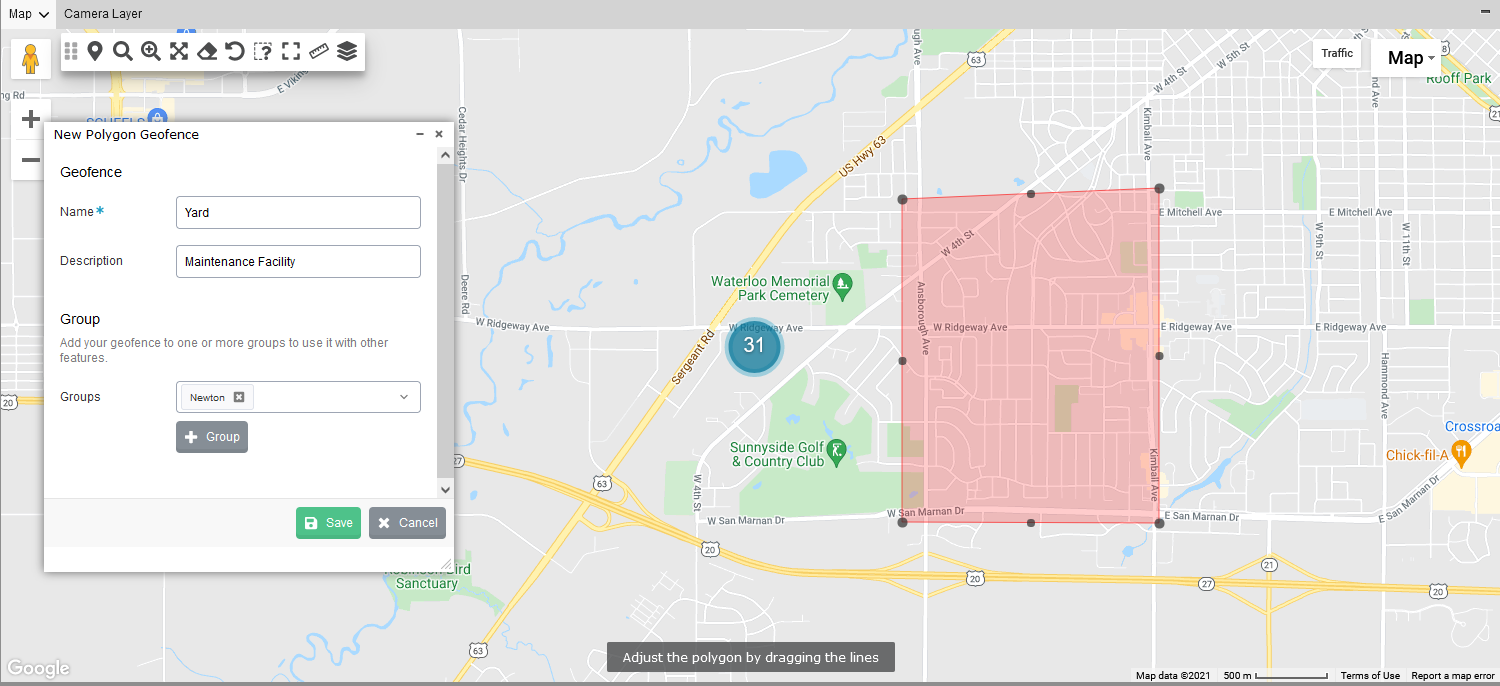 Optimize routes by tracking completion status
The Cypress VUE platform also offers the Route Completion Service (RCS) as an add-on feature. This intuitive system is highly customizable to fit your fleet's service. A few examples of services include snow plowing, street sweeping, and dust suppression. You can see a full view of the route completion levels of your fleet activity in real-time. Set requirements to define complete routes and monitor progress displayed on the map.
The RCS gives you:
Live updates within the past 48 hours
Map out specific routes using geofences
Identify progress with various colors for distinct routes
Learn more about RCS here.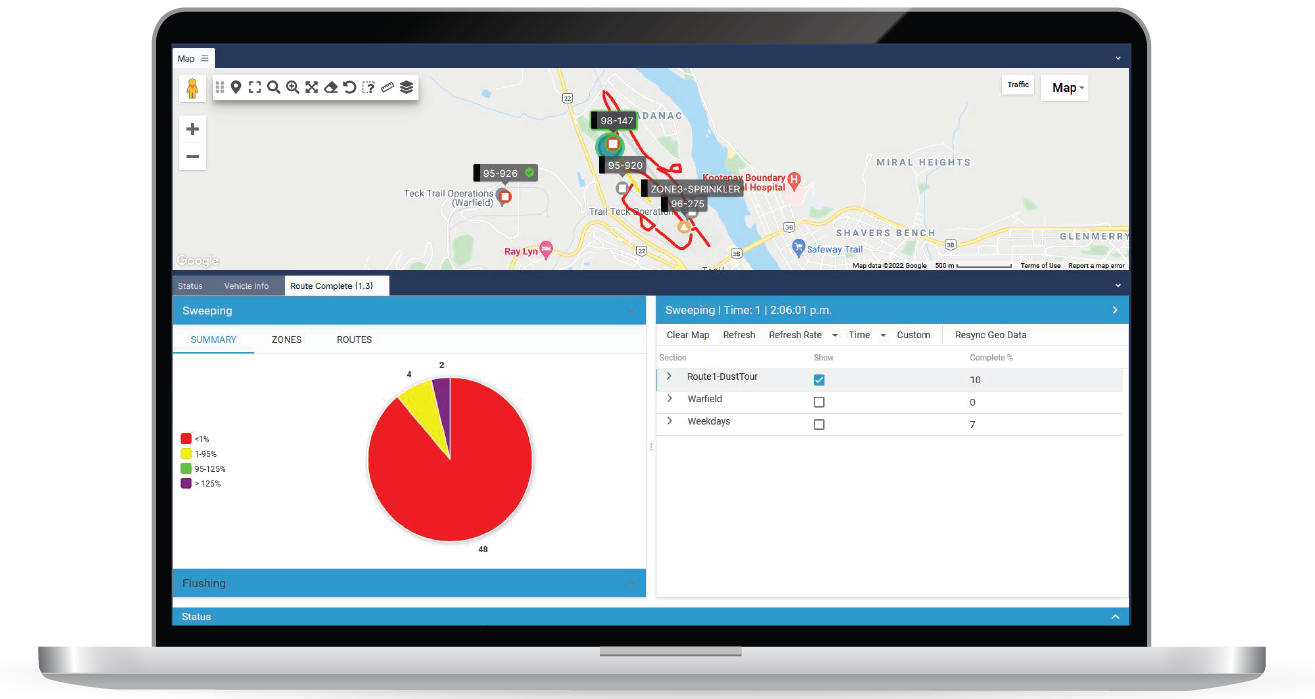 Set up custom reports for meaningful analysis
Cypress VUE is built with a robust report system that supports various report types for your specific fleet. You can customize reports based on SQL queries in a variety of formats. Reports can automatically be emailed out on a schedule or viewed instantly.
A few examples of custom reports include:

The list does not stop here. Reach out to our support team to assist you in setting up your custom reports to address your specific requirements.
Integrate with the CTM-ONE camera application
Cypress VUE can capture images in real-time from an operator or time-controlled camera mounted in your vehicle for specific events or merely used as a dashcam. Government municipalities can use this application for public access portals to inform residents of current road conditions or certain traffic events. Read a real-life application example of the Dubuque County case study here.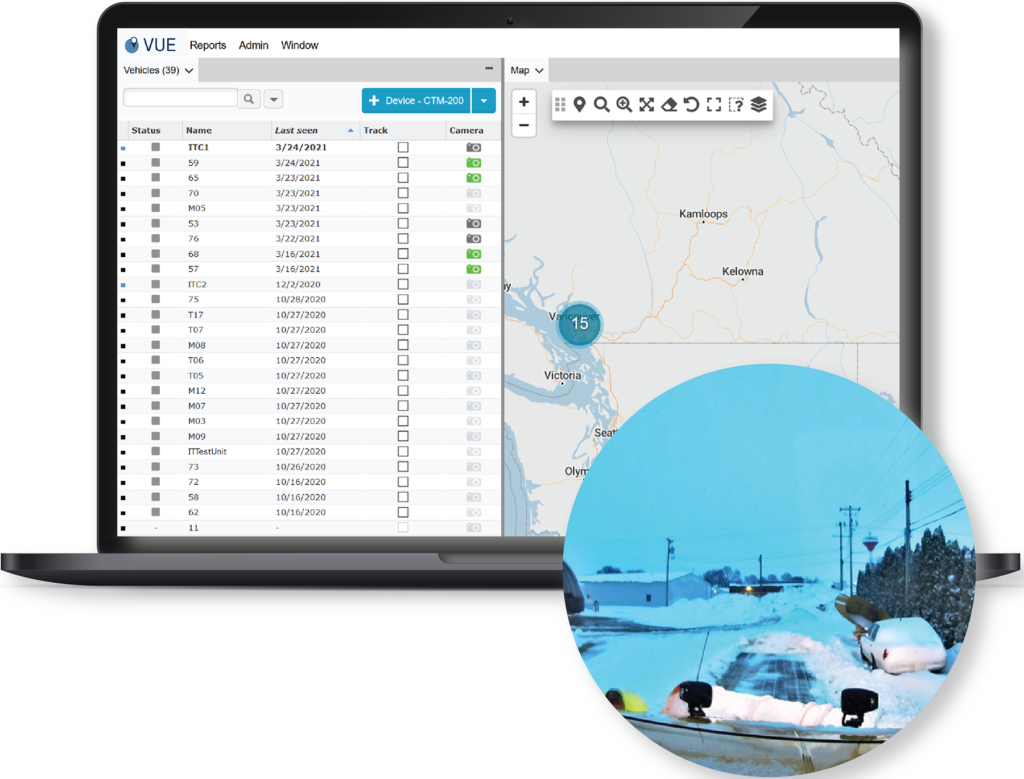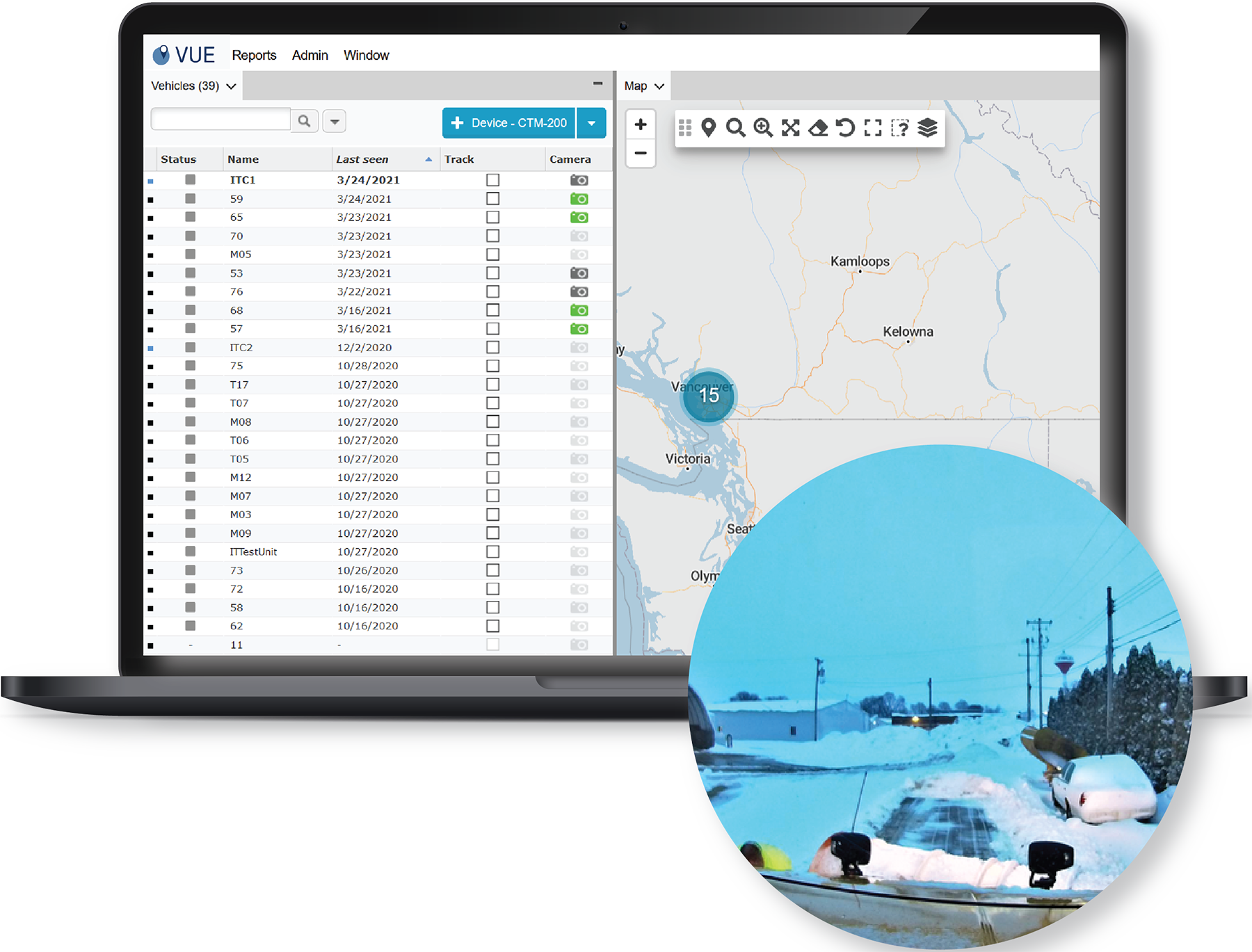 Fully personalize workspaces
Customize the layout for each job function, or create your workspace to maximize your productivity. Panels within Cypress VUE can be moved around and saved as the tailored workspace that is most convenient for you.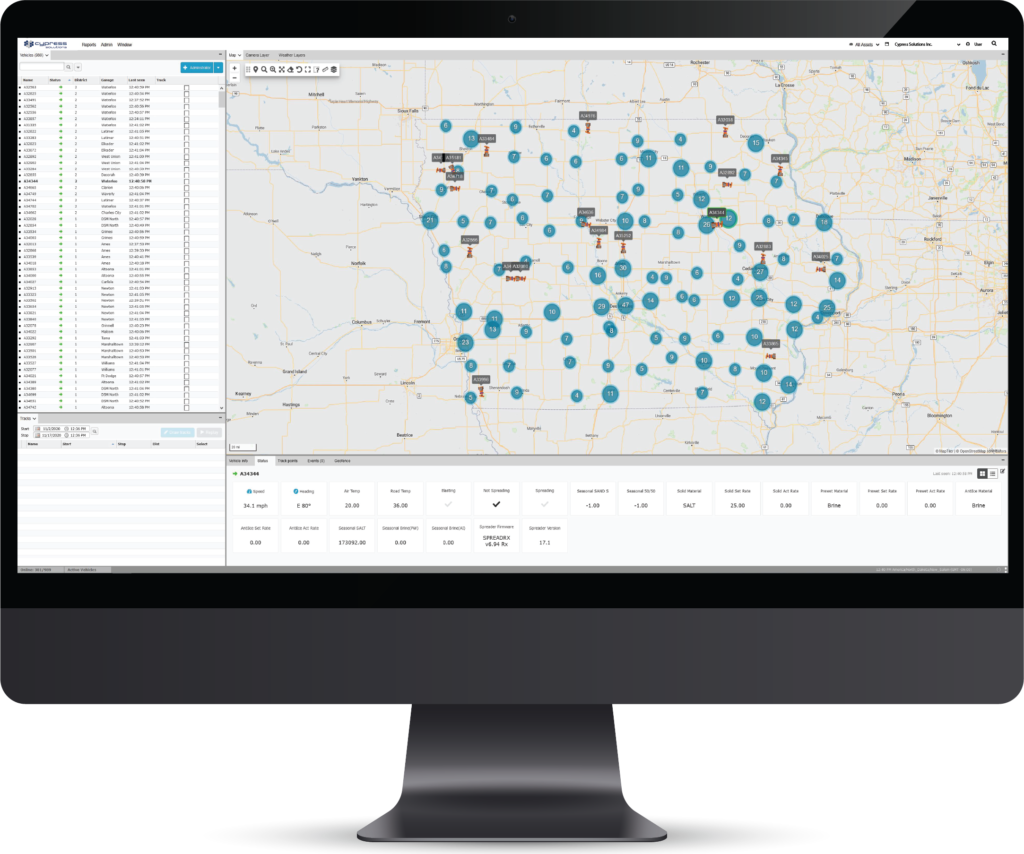 To learn more about why Cypress VUE is a powerful platform for your fleet operations, please visit www.cypress.bc.ca/cypress-vue/ or reach out to info@cypress.bc.ca.